Our Staff
Dr. Matthew L. Schairer
Veterinarian, Owner

"Doctor Matt" is from upstate New York. He attended college at Cornell University for a Bachelor of Animal Science, and gained a wealth of knowledge while completing an internship at the Bronx Zoo. After graduating from Cornell, Dr. Matt headed south to the University of Florida. He spent his first few years there completing his Master of Animal Science degree, publishing on bovine nutrition and lactation and getting to know his future wife, Ashley.


After completing his Master's Dr. Matt attended veterinary school, earning his Doctor of Veterinary Medicine and focusing on care for both large and small animals. Once Matt finished his extensive education in animal science and veterinary medicine, he and Ashley moved to Saint Augustine, where Dr. Matt worked at a mixed animal practice. In 2007, they transitioned to DeLand and started Volusia Veterinary Services. After 5 years of exceptional mobile vet care, Dr. Matt opened his veterinary clinic in Downtown DeLand to better serve the area.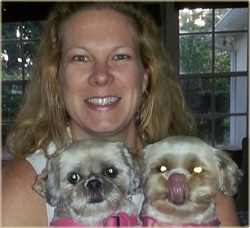 Ashley Schairer
Clinic Manager

Ashley Schairer is Dr. Matt's wife, business partner and fellow animal lover. She was born and raised in DeLand, but attended the University of Florida for both her Bachelor and Master's degrees. While at UF, Ashley studied Sport's Science with a specialty in working with people with disabilities.


After graduating, Ashley worked as a high school science teacher in Gainesville, Saint Augustine and then in DeLand. When Matt and Ashley has their first child Alexa ("Lexi") in 2009, Ashley stopped splitting her time between Volusia Veterinary Services and teaching to work at the vet clinic fulltime. The birth of their second child ignited Ashley and Matt's dream of opening their own animal clinic: Addison ("Addie") joined the family in 2011, and Matt and Ashley opened the doors of Volusia Vet Services nine months later.


Ashley and Matt are very happy to have their family and the clinic complete, and they warmly welcome you in for a visit!
Sarah Sexton
I started out in the animal profession when I was 16 years old as kennel help for cats and dogs. After graduating high school I was given the opportunity to do more with small animals. I was able to learn the daily running of a clinic and eventually moved up to become a surgical technician. After 7 ½ years of working with cats and dogs I searched for more, but my love for the animal field is so great I couldn't see myself doing anything else. In 2013 I started at Volusia Vet Services and have been able to learn and entirely new skill set!  I now have the opportunity to assist with everything from equine endoscopy to x-rays on tigers, as well as continue working with dogs and cats.  I look forward to each day and seeing what comes through the doors!
Sarah Leigh Freitag
Growing up with horses, I've always loved working with animals, starting with farm jobs when I was in high school and moving up to Veterinary jobs later. Even after getting my Bachelors Degree in History at the University of Mary Washington, I still came back to work in the veterinary field. After my husband got out of the Marine Corps, he, my son and I moved to Florida for his job and it wasn't long before I started at Volusia Vet Services. I am very happy working with the amazing staff here, especially in that I am given opportunities to learn some new skills that I didn't have before. I enjoy being able to be part of team who treat all animals like their own.