Our Staff
Dr. Matthew L. Schairer
Veterinarian, Owner

"Doctor Matt" is from upstate New York. He attended college at Cornell University for a Bachelor of Animal Science, and gained a wealth of knowledge while completing an internship at the Bronx Zoo. After graduating from Cornell, Dr. Matt headed south to the University of Florida. He spent his first few years there completing his Master of Animal Science degree, publishing on bovine nutrition and lactation and getting to know his future wife, Ashley.


After completing his Master's Dr. Matt attended veterinary school, earning his Doctor of Veterinary Medicine and focusing on care for both large and small animals. Once Matt finished his extensive education in animal science and veterinary medicine, he and Ashley moved to Saint Augustine, where Dr. Matt worked at a mixed animal practice. In 2007, they transitioned to DeLand and started Volusia Veterinary Services. After 5 years of exceptional mobile vet care, Dr. Matt opened his veterinary clinic in Downtown DeLand to better serve the area.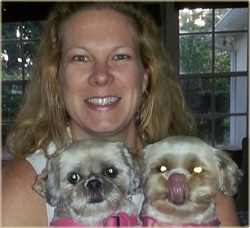 Ashley Schairer
Clinic Manager

Ashley Schairer is Dr. Matt's wife, business partner and fellow animal lover. She was born and raised in DeLand, but attended the University of Florida for both her Bachelor and Master's degrees. While at UF, Ashley studied Sport's Science with a specialty in working with people with disabilities.


After graduating, Ashley worked as a high school science teacher in Gainesville, Saint Augustine and then in DeLand. When Matt and Ashley has their first child Alexa ("Lexi") in 2009, Ashley stopped splitting her time between Volusia Veterinary Services and teaching to work at the vet clinic fulltime. The birth of their second child ignited Ashley and Matt's dream of opening their own animal clinic: Addison ("Addie") joined the family in 2011, and Matt and Ashley opened the doors of Volusia Vet Services nine months later.


Ashley and Matt are very happy to have their family and the clinic complete, and they warmly welcome you in for a visit!
Sara Randall
Hi my name is Sara, also known as "Randall". Imagine going to work each day and seeing something staring back at you—a lion, a horse, dog, cat, maybe even a tiger. My job involves working with animals, from the cute and cuddly to the big and brawny in the clinic or on a farm. Working with animals might sound like fun, and it can be, but it also involves a great deal of effort. I have 3 boys, a husband, 2 horses, 1 dog, 4 cats, a pig, and now a goat. Our life is very busy between rodeos and work, but I couldn't ask to work for a better practice. I have learned quite a bit since starting with Volusia Vet about various species and I look forward to being able to keep learning and growing with this practice.
Stacie
I was born and raised in Daytona Beach. I have two beautiful twin babies! I have one dog (Jager) And will probably add a few more in the coming years. There is nothing else I'd rather do than work with animals. Since starting at Volusia Vet I am learning a whole new skill set. I love to see the positive outcome every day in our patients! I can't wait to see you and your fur babies!