When it's Time to bring your Pet to the Veterinarian in Deltona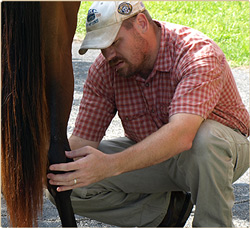 Dr. Matt Examining Horse Leg
Even though you don't want to rush to the vet every time your pet acts different, it is very important to know when it is time to bring your pet to a veterinarian. Deltona is a friendly city which offers a lot of different terrain that pets love to explore, from pet friendly parks to wooded areas. Sometimes this type of freedom can contribute to pets getting into trouble.
Since it is sometimes difficult to know if you have a pet in distress, there are a few signs that indicate its time to see a veterinarian. If you notice any wounds or trauma, if the pet appears to have difficulty breathing, if your pet is not eating or if you think your pet has possibly ingested a toxic substance these are all indicative of a potential health problem.
When they need to bring their pet to a veterinarian, pet owners get expert care from a local animal clinic near Deltona at Volusia Vet Services. Contact us to schedule an appointment today and give your pet the care they deserve. 
Call our office for appointment availability and pricing.