Volusia Vet Services Offers a Clean, Controlled Veterinary Clinic in DeLand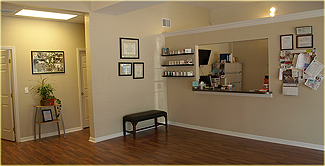 Volusia Vet Services Waiting Area
When you visit the veterinary clinic, your ailing pet in your arms, the last thing you want to actually walk into is a zoo. At Volusia Vet Services, we pride ourselves on offering a calm, cool waiting area for prospective patients and their owners, where both of you can feel relaxed—knowing that the best veterinary care in Volusia County is mere moments away.
Call Volusia Vet Services at 386-740-0963 to schedule an appointment for your animal today, or browse our complete list of veterinary services.
Finding the Time for Our Four-Footed Friends at Volusia Vet Services—The Anatomy of an Exceptional Experience
Our veterinary clinic in downtown DeLand is fully equipped to handle almost any veterinary situation, and we also offer mobile veterinary services* to the Volusia County area. Whether it is your dog, cat or draft horse, Volusia Vet Services has the tools and the knowledge to get your furry friend back on their feet in no time flat.
Localized Care for the Local Community: There's No Place Like Home
Volusia Vet Services is proud to be a member of the DeLand community, as well as a respected veterinary clinic serving all of Volusia County.