Friendly, Diverse Veterinary Clinic in Orange City, FL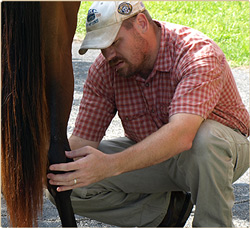 Dr. Matt Examining Horse
Dr. Matt L. Schairer and his dedicated team of veterinary technicians at Volusia Vet Services take pride in serving the entire Volusia County area's veterinary needs, with a mobile clinic and primary office in DeLand, just a few miles from Orange City.
Educated, Certified and Ready to Serve You
Dr. Matt and his team are licensed and equipped to deal with animals large and small, from cats and dogs to pigs, horses, goats, and cows. Dr. Matt received his Bachelors in Animal Science from Cornell University in New York, NY before moving south to finish his Masters Degree coursework in the same discipline at the University of Florida. Upon receiving his Doctorate in veterinary science, Dr. Matt moved to St. Augustine and began working at a mixed practice. He opened a mobile clinic in 2007, and a dedicated office in 2012.
Volusia Vet Services offers numerous benefits for your pet, whether you have a medical need or are just stopping in for a check-up.
Some services include:
Foal, kid, and calf care
Immunizations
Neuter/Spay
Flea/Tick and parasite prevention control
Pain management, hospice and euthanasia services
Blood transfusions and testing
Equine endoscopy
Dr. Matt and his wife and business partner, Ashley, take pride in providing exceptionally friendly and dependable veterinarian services to the DeLand, Deltona, Debary, Deleon Springs and Orange City municipalities. Dr. Matt is also available for mobile animal emergencies* towards Daytona, Ormond and New Smyrna beaches. Call 386-740-0963 for an appointment.